Alex
Witherspoon
Profile
I love advising, mentoring, coaching, and building sustainable, impactful companies that invest in people, and community with technology driven solutions. A business and people leader with cross-functional experience developing companies, teams, and people in business, engineering, operations, sales, and marketing crafts. Problem solver, servant style leader, team player, empathetic, inclusive culture builder that creates results with solid fundamentals and objective outcome-driven execution and strategy development. I have founded, lead, and supported multiple companies from small garage start ups to fortune 100 and in between with team sizes ranging from 0-1200+. M&A experience with ten events totaling 39 billion USD in deal value.
Experience
Edify
Portland OR, USA
Advisor
Jan 2018 - Oct 2022
ChatOps SaaS platform for onboarding and educating employees faster and better to help enable faster ROI and better quality of life.
Advised & coached the founding team throughout company growth phases including fundraising.
Hired first engineers, and advised growth of technology, product, and design elements of company.
Partnered with team to review company strategy, performance, technology, and product growth.
Onboarding
SaaS
Artificial Intelligence
Machine Learning
Natural Language Processing
Smile.io
Kitchner, CA
Head of Engineering, Product and Design
Feb 2021 - July 2022
Grew company to become largest international e-com loyalty provider with >1 billion users, >300,000 merchants in the Shopify, Wix, and Bigcommerce ecosystems.
Built a remote company culture with employees in 22 countries, >7 languages.
Lead a foundational company rebuild to get finances, process, tech, teaming, and the product into a mature growth stage.
Increased revenues with value based pricing and packaging changes, user journey refinements.
Improved reliability, performance, and cost efficiency through tech platform improvements for world scale ecom.
e-commerce
Saas
Ruby
Agile
Javascript
HTML
CSS
Agile
SurfaceSEO
Portland OR, USA
Board Member
Mar 2008 - Oct 2022
Startup marketing and search optimization business focusing on medium to long-term partnerships with small to midsize brands internationally.
Fully distributed teams of content creation, branding, promotional work, and search engine optimization through data-driven analysis.
GitHub
SF CA, USA
Director of Engineering
Jan 2018 - Mar 2021
Worlds largest code collaboration platform with 98% of worldwide developer participation.
Joined Pre-Microsoft acquisition - Focused in Enterprise, Privacy, and Security User Experiences.
Developed and led seven international teams, cultivating four staff engineers and staff managers.
Diversified talent outside the bay geo, and created a creative agile culture with outsized impact.
Lead through acquisition by Microsoft for 7.8 billion USD.
GitHub
SaaS
Auditlog
GitHub Enterprise
Github Infrastructure
Ruby
Go
ATWLab Accelerator
Portland OR, USA
Founder & Chief Executive Officer
Aug 2008 - Dec 2020
An entrepreneur and principal business development consultant working with partnerships focused on technology startups.
$48 million USD fund managed for seed stage and series A stages of growth.
Mergers and acquisitions experience in buyer, seller, and mediation roles.
Global investments with over 80 companies in over nine countries.
Portfolio of investments ranges from automated robotics and avionic systems for lightweight aerial vehicles, to educational technology start-ups.
Investing
Advising
M&A
Consulting
FlightStats
Portland OR, USA
SVP of Engineering
Mar 2014 - Jul 2018
Industry leader for international aviation data and analytics company working with travelers, aircraft, routes, airlines, airports, and more in historical, real-time, and predictive services.
Hands-on leader for the global aviation data acquisition, processing, and distribution software and cloud data product platforms.
Grew a team of ~40 to over 100 of local and remote engineers in cross-functional EPD teams to develop software services, software-defined infrastructure, and big data pipelines and analysis systems.
Built and grew our services business, processing 100s of millions of data points in semi-real-time, servicing customers around the globe.
Lead company through acquisition by Relx hitting all strategic targets on time.
Aviation
SaaS
World Scale
Data Services
M&A
Presidio
Portland OR, USA
C-Suite Consultant & Sales
Mar 2012 - Nov 2014
High-end technology consulting firm focusing on CXO partnerships to bring technology strategy and execution together.
Partnered with a wide portfolio of nearly 400 companies across the private, public, and government sectors.
Built long-term strategy with leadership teams that incorporated advanced technology solutions for Presidio clients.
Provided technical expertise and leadership to lead a Virtual Datacenter and Data Science Practice within Presidio.
Consulting
Sales Engineering
Software Architecture
Security Architecture
Networking Architecture
Network & Software Security Architect
Mar 2012 - Nov 2014
Partnered with Portland General Electric to modernize and secure their technology solutions.
Projects focused on smart electrical metering, modern digital industrial control systems, and customer-facing systems.
Migrated PGE Datacenter to newly designed site with no customer impact.
Created & implemented CyberSecurity design to secure critical US infrastructure.
CyberSecurity
Datacenter Architecture
ADP Dealer Services
Portland OR, USA
Solutions R&D
Feb 2008 - Mar 2012
Created new lines of technology business as part ADP Dealer services for wide scale international use for over 10,000 car dealerships, and millions of users.
Early employee as the company grew from millions AAR to billions AAR during a massive growth phase.
My work included leading product, design, and engineering efforts to design new product lines and bring them to market at scale.
Product Development
Networking
CyberSecurity
MindScapes
Wichita KS, USA
Chief Technology Officer & Founder
Jan 2006 - Nov 2007
Edutech play with brick and morter location to augment public school systems education and community education with high tech services including software development, visual & audio production, music production, clay animation, robotics, and more.
Developed & executed a start-up business technology plan, brought together a team, supported all elements of the business to get it off the ground.
Developed infrastructure and E-learning systems for advanced technology instruction for remote and in-class learning.
Pioneering new curriculum and business plans for technology integrated STEM education.
Grew to break-even revenue levels in the first year of operation.
STEM Education
Robotics
Software Development
NetApp
Wichita KS, USA
IT Consultant
Jun 2007 - Jan 2009
Virtualized and emulated storage systems for sales, quality assurance, and training systems with fully automated SAN environments.
Developed new pricing tools for competitive pricing analysis and deal-close support.
Created internationalized training programs for SAN storage platforms using video education in 12 languages.
Consulting
Storage
Training
WSU College of Education
Wichita KS, USA
NSF M3 Grant Researcher
Aug 2003 - Jun 2007
Hands-on NSF Grant work with future educators providing technology consulting, assistance, and support.
Co-Created the WSU Robotics Challenge to bring technology education to K-12 students and educators with industry funding from Boeing.
Developed remote education techniques and work with technologies like Internet2 for Kansas schools and international teaching communities.
Academic Research
Remote Learning
Curriculum
Security
Robotics
SSI Sprinkler Systems
Wichita KS, USA
IT Consultant
Jun 1997 - Aug 2003
Sprinkler system merchant and installation services company in Wichita, Kansas.
Designed, deployed, and managed technology elements of the business, including e-com presence, inventory, security, workstations, and software systems.
Grew the business from 3m USD ARR to 11m USD ARR through digital transformation efforts & e-commerce.
e-commerce
IT
Networking
Security
Consulting
Website Developer
Wichita KS, USA
Sole Proprietor
Oct 1995 - Jan 2006
Provided website hosting, design, and management services to a portfolio of ~200 websites.
Included static html, custom javascript, Joomla, Drupal, and fully custom builds.
Website
Design
Consulting
Infrastructure
Hosting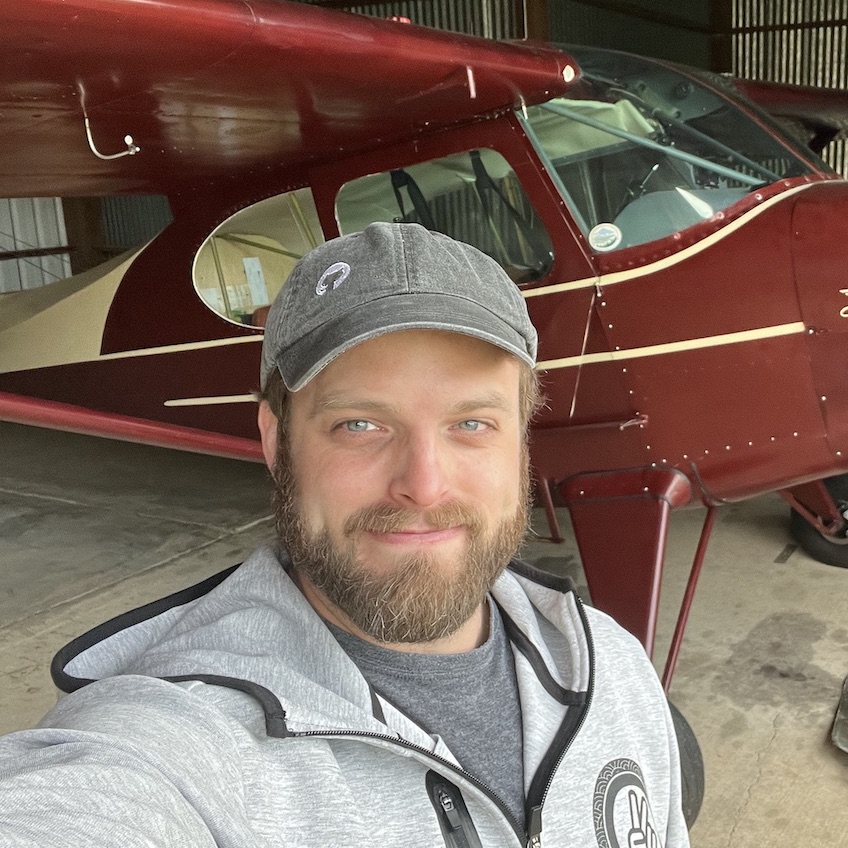 Skills
Business



Vision
Mission
Culture
Strategy
Tempo
Org Design
Decision Architecture
Investments
Planning
Risk
Continuity
Acquisition
Negotiation

Markets



Aviation
Consulting
Developer Tooling & Enablement
CyberSecurity
AgTech
Education
Information Technology
Managed Services
Manufacturing
Power Distribution Markets
Power Generation, Risk Management
SaaS
Big Data
Telecom
Venture Capital

People



Alignment
Growth Mindset
Recruiting
Hiring & Firing
Radical Candor
Coaching
Mentoring
Compensation
Contracts
Mediation

Process



Agile
Kanban
Scrum
Forecasting
Risk Management
Retrospectives
Incident Management
On-Call
Software Development LifeCycle
Iterative Development
Prioritization
Product Lifecycle
Design
Research & Development
Site Reliability Engineering

Technology



git
GitHub
CI & CD
bash
javascript
node.js
C++
python
ruby
SQL
Artificial Intelligence
Computer Vision
Machine Learning
Natural Language Processing
Streaming Data Processing
Data Warehousing
Data Analytics
Edge Compute
CyberSecurity
Pen Testing
3D Modelling
Additive Manufacturing
Prototyping
AWS
Azure
Kubernetes
Docker
Virtual Machines
Helm
Networking
Interests
Gardener
Beekeeper
Hiker
Cook
Pilot
Forester
Traveler
Writer
Maker
Hacker
Education
Portland State Unversity
Bachelor of Science
2008 - 2012
Computer Science & Business Management
Wichita State University
M3 Grant Researcher
1999 - 2003
Technology Integration into the Classroom & Remote Learning.
MIT Media Lab
Robotics Education Researcher
1997 - 1999
LEGO Robotics, AI, and ML Research